Primary agriculture is an important sector of the economy that is subject to periods of volatility due to production and economic risks that are outside the control of producers. For decades governments have acknowledged the need for stability in the farm sector and have partnered with producers to manage risk through access to government sponsored business risk management programs (BRMs). Canada's current programs consist of income stabilization programming (AgriStability), production insurance (Crop Insurance), and self managed income assistance funds (Agri-Invest).
The COVID-19 pandemic has highlighted the shortcomings of existing BRM programs, proving they do not meet the needs of Canadian farmers and ranchers during this or any other crisis. APAS has and will continue to advocate strongly on behalf of Saskatchewan producers for meaningful improvements to BRM programs.
Urgent Changes to AgriStability are Needed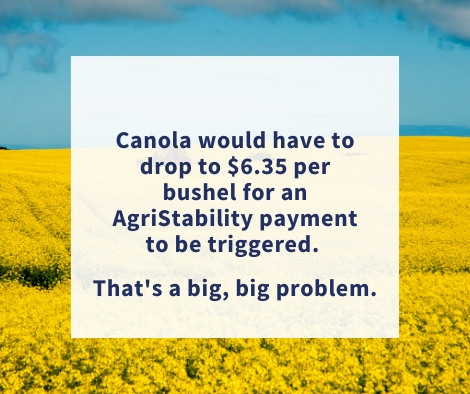 APAS has been vocal about the need to reform to Canada's BRM programs since 2013, when significant changes were made to AgriStability, the main program designed to provide support to farmers facing income declines. Although farm incomes in Saskatchewan have declined steadily since 2015, fewer than half of eligible producers are currently enrolled in AgriStability.
Low coverage levels, administrative barriers, and unequal coverage to certain types of farms (including livestock and mixed farm operations) have resulted in low participation, and fewer than half of eligible Saskatchewan producers are currently enrolled in the program. Although AgriStability has been under review for three years, no changes have been made.
APAS has released updated research that demonstrates the limitations of the AgriStability program. The APAS example shows that there would have to be a catastrophic drop of over 40% in the price of canola (a decrease of $11/bushel to $6.35/bushel) before it would trigger AgriStability coverage under the current model.
APAS President Todd Lewis will address the House of Commons Standing Committee on Agriculture and Agri-Food on Friday, June 12, 2020 from 3:00 to 4:00 pm EDT (1:00 to 2:00 pm Saskatchewan time) to present APAS's recommendations for changes to Agri-Stability. These include an increase to AgriStability coverage levels and an elimination of the Reference Margin Limit.